Beckham makes first big league start at second
Beckham makes first big league start at second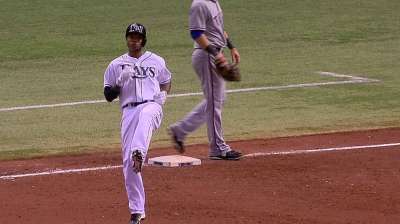 ST. PETERSBURG -- Rays infielder Tim Beckham already got one first out of the way when he collected a hit during his first Major League at-bat Thursday.
The first overall pick in the 2008 First-Year Player Draft racked up another Monday when he got his first big league start, playing second base and batting seventh against the Orioles.
Desmond Jennings' right-handed bat was missing from the lineup because of a left hamstring strain, leading manager Joe Maddon to start Beckham. Ben Zobrist, the Rays' everyday second baseman, found himself in left field
Beckham, who is ranked the club's No. 16 prospect, has played in three games off the bench, including Friday's 18-inning contest.
"Timmy has done a nice job at second base when we've thrown him out there," Maddon said. "He does not look taken by the moment. … He was out there for 18 innings. We trusted him then. Let's throw him out there. He has handled the moment well to this point. Zobrist permits all of it to happen with his ability and the way he accepts these kinds of moments."
Beckham started 103 games at shortstop and 15 at second base for Triple-A Durham this season.
Bill Chastain is a reporter for MLB.com. Sam Strong is an associate reporter for MLB.com. This story was not subject to the approval of Major League Baseball or its clubs.