Rays in good hands with Escobar at shortstop
Rays in good hands with Escobar at shortstop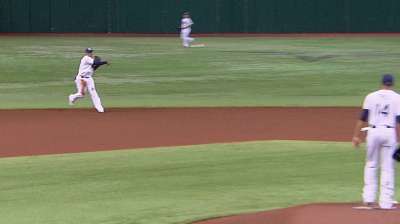 ST. PETERSBURG -- Perhaps the fact that Friday's game lasted 18 innings, 10 of them scoreless, had something to do with the record-breaking defenses both the Rays and Orioles had on the field.
Through 152 games, the Orioles (47) and Rays (55) have the two lowest error totals in Major League history. Both are on pace to break the Mariners' single-season record of 65, set in 2003.
"The level of defense we have played this year is probably as good as you're going to get anywhere," manager Joe Maddon said. "I know Baltimore has made fewer errors, but I don't know if they've gotten to as many balls. We've played catch pretty good all year."
Maddon considers the 2013 Rays his best defensive squad since he arrived in 2006, thanks in large part to Yunel Escobar, who is on pace to break the team record for fielding percentage by a shortstop.
The knock on Escobar before he joined Tampa Bay was that he could make the flashy play but struggled at times with run-of-the-mill ground balls.
Maddon hasn't seen that.
"He's killed the routine play, absolutely annihilated it," Maddon said, adding that Escobar deserves Gold Glove consideration. "I don't think anyone could possibly be better at the routine play than he has been this year. Watch how hard James Loney has to work to catch his throws. They're right in his chest. I think he has been spectacular, and he's benefited from our positioning. It's hard to imagine anyone being more consistent on defense than he has been this year."
Maddon also gave high praise to Orioles third baseman Manny Machado, who has made just 13 errors in 153 starts.
"Machado has really been the biggest difference on that team," he said. "They have a lot of really good players, but what Machado has done ... I remember playing them before him, and a lot of times, there would be a little mistake at third base that would put you on the right side of the game. There are no mistakes there."
Sam Strong is an associate reporter for MLB.com. This story was not subject to the approval of Major League Baseball or its clubs.