Beckham collects first big league hit in first at-bat
Beckham collects first big league hit in first at-bat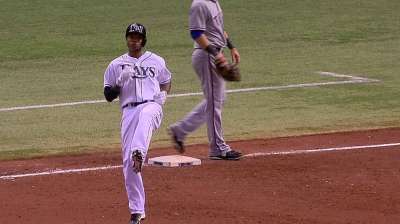 ST. PETERSBURG -- There was one shining moment in an otherwise ugly loss Thursday for the Rays when Tim Beckham collected his first Major League at-bat and his first hit in the eighth inning.
Beckham -- the No. 1 overall selection in the 2008 First-Year Player Draft -- pinch-hit for Matt Joyce and grounded a single through the right side of the infield off Rangers reliever Tanner Scheppers.
"It would have been nice to get the win, but on the bright side, yeah, it is nice to get that first one out of the way," Beckham said. "There are many more to come."
As promised, manager Joe Maddon let the 23-year-old infielder get his feet wet in a situation that meant little to the outcome of the game.
Beckham was surprised to feel few nerves his first time in the batter's box.
"I knew a fastball pitcher was coming in and that's one of the strong points in my hitting approach, driving fastballs," he said. "I got down two strikes, I battled and found a hole."
He also received a tip from Evan Longoria, who watched from the on-deck circle.
"The advice he gave me was very helpful," Beckham said. "He told me Scheppers has a hard fastball and when he gets to two strikes, he likes to quick pitch. He did, and I got a pitch to put in play. It found a hole."
As for the ball, Beckham plans to hang on to it. He just isn't sure where it's headed.
"I'm definitely going to put it up somewhere once I get a house and all that stuff," he said.
Sam Strong is an associate reporter for MLB.com. This story was not subject to the approval of Major League Baseball or its clubs.