Rays to call up '08 top pick Beckham; Guzman added
Rays to call up '08 top pick Beckham; Guzman added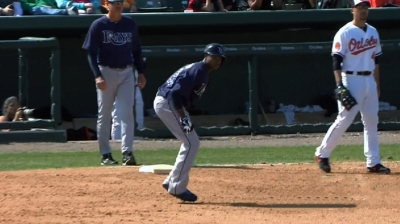 ST. PETERSBURG -- Tim Beckham will finally be arriving to The Show, as the Rays announced that the No. 1 pick of the 2008 First-Year Player Draft would be called up on Wednesday.
Beckham's news came on the same night the Rays selected the contract of outfielder Freddy Guzman, which was announced prior to Tuesday's 7-1 loss to the Rangers. He was added to the active roster prompting a corresponding move that saw outfielder Brandon Guyer moved to the 60-day disabled list.
In addition, the Rays are expected to recall right-hander Jake Odorizzi -- ranked by MLB.com as the Rays' No. 2 prospect -- on Friday.
Beckham, ranked No. 16, won't likely be a major contributor in the final 12 games of the season, but he could help with the infield depth and overall team speed.
Guzman has been on a Minor League contract with Tampa Bay since Aug. 30. He has not played in a Major League game since 2009 with the Yankees. Coincidentally, the last game he played in came at Tropicana Field (Oct. 4, 2009).
Guzman has been playing in the Triple-A Mexican League since 2011. He has totaled 587 stolen bases in his 11-year Minor League career, including 73 in 99 games for Ciudad Del Carmen of the Mexican League this year.
"When they signed me, they told me they need me on the big league club as a pinch-runner," Guzman said. "They need my speed. ... I feel very excited."
Bill Chastain is a reporter for MLB.com. Sam Strong is an associate reporter for MLB.com. This story was not subject to the approval of Major League Baseball or its clubs.