Maddon says lack of runs doesn't tell whole story
Maddon says lack of runs doesn't tell whole story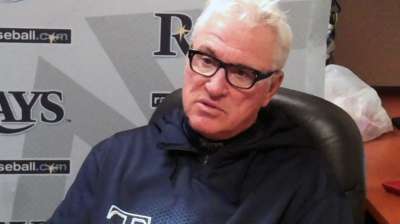 ST. PETERSBURG -- The Rays rank last in the American League in runs per game since July 31, but manager Joe Maddon does not feel that number is indicative of his team's offensive skill set.
"We're not playing bad offense," Maddon said. "We're not playing good offense with runners in scoring position. We have to get better at that."
Tampa Bay is hitting just .226 with runners in scoring position since July 31, the second-worst average in the AL; that number is worse (.137) over the team's last 10 losses.
The Rays are also 0-for-their-last-15 with the bases loaded.
"We've done a nice job of getting them out there, we just haven't been driving them in. … It's kind of a paradox," Maddon said. "We've been playing good offense, but runners in scoring position has not been kind to us. You can't be hypercritical of the offense. We just haven't been good in that one moment."
Maddon pointed to Sunday's loss as an example. Many were quick to put the onus on Joel Peralta blowing a two-run lead, but the Rays left eight on base overall and left the bags full in the eighth inning.
"Yesterday was a team loss, man," Maddon said. "Everyone is going to pile on Joel for the last part, but that's the farthest thing from the truth. We had so many opportunities with runners in scoring position that would have put that game in a different perspective. We win as a group. We lose as a group."
Sam Strong is an associate reporter for MLB.com. This story was not subject to the approval of Major League Baseball or its clubs.