Rays make history with 15th shutout of season
Rays make history with 15th shutout of season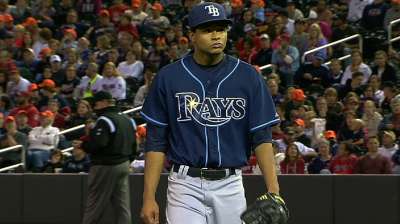 MINNEAPOLIS -- The Rays made history on Saturday night, but given their recent history, it's almost becoming old hat to rave about their starting pitching.
With their 7-0 victory over the Twins, the Rays tied their franchise record of 15 shutouts in a season. The record is only a year old -- they posted 15 shutouts last year, too -- and with 30 shutouts in the last two years, they have one more than the Dodgers to lead the Major Leagues in that span. They're only the second American League team with at least 15 shutouts in back-to-back years, joining the 1989-90 Oakland A's.
On Friday, Sean Archer threw six scoreless innings to get the ball rolling in an eventual 3-0 win over the Twins. On Saturday, Matt Moore struck out five in three innings, before a two-hour rain delay ended his night. Not to worry -- five Rays relievers combined to blank the Twins over the final six innings.
The franchise's track record of excellence with their starting pitching is no accident. Rays manager Joe Maddon said it starts with the Draft and determining the type of pitcher who'll be a good fit in the system.
"I'm a big believer in research and development. So I think you have to have a schematic regarding who you want to get, the kind of pitcher you're looking for," Maddon said. "You look at the Matt Moores of the world -- they're not necessarily No. 1 Draft choices all the time. So it begins with great scouting.
"After that, developmentally, we don't rush anybody. The fact that the guy's had an opportunity to learn his craft a bit -- now, they're not totally polished sometimes. We still have some things to work on with these guys. But overall, the number of innings is decent to the point where when they get here, at least they've got that under their belt. And I think once we get them here, [pitching coach Jim Hickey] and the boys do a great job. I think our preparation is good. So there's a lot of people that contribute to that."
It hasn't gone unnoticed around the league, either. Twins manager Ron Gardenhire complimented the Rays as a whole, but focused his highest praise on the team's starting rotation.
"They're a team that can do a lot of different things. They have a lot of versatility with their players and when it doesn't work, they find players who fill in nicely," Gardenhire said. "But more than anything, it's starting pitching. They've been dominant with that the last few years here. They have a mold, and they keep bringing guys out [of] this mold."
Patrick Donnelly is a contributor to MLB.com. This story was not subject to the approval of Major League Baseball or its clubs.