Maddon regrets not starting Hernandez to open 10th
Maddon regrets not starting Hernandez to open 10th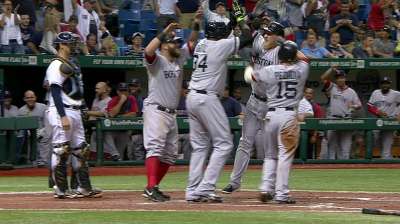 ST. PETERSBURG -- The Roberto Hernandez bullpen experiment went according to plan until Wednesday night's 7-3 loss to the Red Sox.
After striking out seven over 3 2/3 innings in Anaheim last week, Hernandez sat down for seven days until the Rays turned to him in the 10th inning Wednesday with two runners on base.
The right-hander walked Mike Napoli on four pitches and then pinch-hitter Mike Carp belted a game-winning grand slam on Hernandez's first pitch. After pondering the decision for a night, manager Joe Maddon said he should have gone with Hernandez over Joel Peralta to start the frame.
"I probably should have started him in the inning, because Joel had really warmed up too much last night and I knew that," Maddon said. "I just took a chance and could see from the beginning he didn't have his normal stuff, so under all those circumstances, it would have been better to start him in that inning. … You would always prefer to give someone a clean slate. He's not used to coming in with people on base, but he has done a nice job out of the bullpen twice. He just put a pitch in a bad spot."
Maddon was counting on Hernandez -- known for his sinker -- to deliver a ground ball. Instead, he left a slider up in the strike zone that Carp didn't miss.
"I felt good about putting him in there. I told [shortstop Yunel] Escobar, 'Heads-up. Ground ball right to you here.' And we walk him. The two walks were the critical moments in that inning. Everyone will look at the grand slam obviously, but the two walks were the critical plays in that inning."
Prior to Aug. 23, Hernandez had not pitched out of the bullpen since his rookie season in 2006.
"It was a tough situation, but I don't think about that," Hernandez said. "I think about making a good pitch for a ground-ball double play. I can't control that. I don't think about it being tied. I just wanted to make a good pitch."
Bill Chastain is a reporter for MLB.com. Sam Strong is an associate reporter for MLB.com. This story was not subject to the approval of Major League Baseball or its clubs.