Crain pleased with second bullpen session
Crain pleased with second bullpen session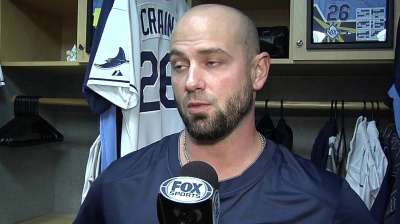 ST. PETERSBURG -- Reliever Jesse Crain, who has been sidelined with a strained right shoulder since being acquired by the Rays before the non-waiver Trade Deadline in July, threw his second bullpen session Tuesday.
Crain upped his pitch count to 36 and mixed in some breaking balls as opposed to the 25 fastballs he threw Saturday.
"I'm still going in the right direction," Crain said. "Again, like last time, we'll see how I feel tomorrow and go from there and decide what the next step is. But very positive."
The next step for Crain has not been determined. Manager Joe Maddon said the training staff's plan for Crain from the beginning has been to throw three bullpen sessions, but Crain did not rule out the possibility of facing hitters.
Crain is encouraged by the progress he has seen in the past week after the rehab pace slowed significantly because of a setback. He hopes to not only get on the field for the Rays, but get back to his All-Star form. Crain was named an American League All-Star, but he did not play in the game because of the injury. He posted a 0.74 ERA in 38 appearances for the White Sox.
"It's healing," Crain said. "When you're able to push it -- you feel it a little bit, but you're able to push it -- and it doesn't get worse, that's when you know you're on the way up. Before, when I'd push it, the next day it'd be sore and kind of went in the wrong direction. It's on the right track. Still getting stronger, and I'm getting excited about it."
Bill Chastain is a reporter for MLB.com. Sam Strong is an associate reporter for MLB.com. This story was not subject to the approval of Major League Baseball or its clubs.