Longoria nears impressive home run mark
Longoria nears impressive home run mark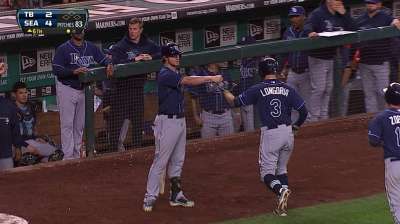 SEATTLE -- Evan Longoria hit his 29th home run of the season Saturday night. With one more, he will become just the second Rays player to have three 30-home run seasons, joining Carlos Pena.
Longoria also can become the 12th active player to have three 30-home run seasons before his 28th birthday and just the eighth third baseman all-time to do it. Troy Glaus was the last to turn the trick in 2002.
The others are Eddie Mathews, Mike Schmidt, Ron Santo, Chipper Jones, Bob Horner and Matt Williams.
"Thirty is pretty solid," Rays manager Joe Maddon said. "Thirty home runs these days really represents some pretty good power. So, yeah, I think it's outstanding, and that's even with a really tough month, month and a half. It's been unusual to see him struggle ... and still be able to put up those kinds of numbers. He's a unique player, that ball he hit last night was properly struck. But this is the kind of thing he can do on an annual basis. And he's going to keep getting better."
Maddon smiled when it was called to his attention that Longoria does not consider himself a home run hitter.
"I understand why he says that, because he really works on other things offensively," Maddon said. "He's got home run power, no question. And when he gets the ball up in the air, it just keeps going. I like the fact he's more concerned about being more of a technician, or a better hitter, and letting the power just show up."
Bill Chastain is a reporter for MLB.com. This story was not subject to the approval of Major League Baseball or its clubs.