Myers' multihomer game has rookie in rare company
Myers' multihomer game has rookie in rare company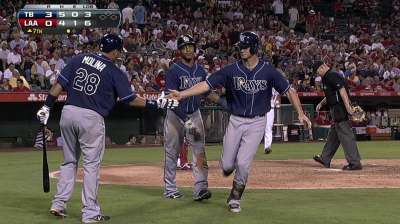 ANAHEIM -- Wil Myers snapped out of his slump Wednesday night with two home runs and three RBIs in the Rays' 3-1 win against the Angels.
According to Elias Sports Bureau, Myers became the first Major League rookie to hit two or more home runs, accounting for all of his team's runs, in a win since Pittsburgh's Garrett Jones in a 2-1 victory against the Giants on July 17, 2009.
Myers is the third player in Rays history (first rookie) to do it. Dan Johnson did it on Sept. 15, 2010, and Damian Rolls did it on June 23, 2003, both against the Yankees. Myers also became the second Rays rookie to have more than one multihomer game, joining Evan Longoria, who had three in '08.
Speaking of Longoria, he had T-shirts made with the Rays' logo on the front and "Team Wil" on the back.
Manager Joe Maddon was asked how a rookie who has been in the Major Leagues for such a short period could pull off having a T-shirt made in his honor.
"He has to be both good and well-liked," Maddon said. "You can be one or the other, but I think the combination of being really good and also well-liked within the group permits something like that to happen."
Myers wore one of the shirts before Thursday night's game against the Angels and noted it would be a "game-time decision" whether he wore it underneath his uniform. He allowed that he liked the shirts and said it was the first team shirt on which he's been featured.
"I'm pretty excited about it," Myers said.
Myers continued to smile when asked about the characters Maddon has compared him to this season. Earlier, Maddon said Myers reminded him of Nuke LaLoosh, played by Tim Robbins in "Bull Durham." Now Maddon is going with Ricky Bobby, played by Will Ferrell in "Talladega Nights: The Ballad of Ricky Bobby."
"I don't know. I don't get it, really," Myers said of Maddon's most recent comparison. "I don't feel like I'm anything like him at all. But whatever he likes."
As for which he preferred, LaLoosh or Bobby?
"Probably Ricky Bobby," Myers said. "I like Will Ferrell."
Maddon smiled when told Myers didn't really like the comparison.
"He doesn't like that and that's OK," said Maddon, noting that the fact he doesn't like the comparison makes the comparison even better.
Bill Chastain is a reporter for MLB.com. This story was not subject to the approval of Major League Baseball or its clubs.