Rays rotation in 'good shape' for stretch run
Rays rotation in 'good shape' for stretch run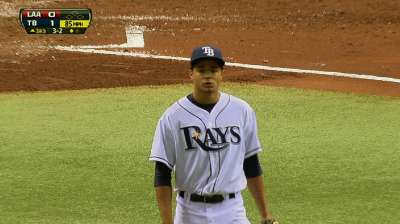 ANAHEIM -- Looking toward the remainder of the season and the health of his team's starting pitchers, Rays manager Joe Maddon observed: "I think they're all in pretty good shape.
"I think when it comes down to the starters, the guy I'm most concerned about is [rookie right-hander Chris Archer], because he's starting to move up into that unchartered territory with innings pitched as well as being young. Beyond that, [David Price is] good. [Matt] Moore's good. [Alex Cobb] is good. And [Jeremy Hellickson] had his rest. I think we're in pretty good shape."
Maddon noted there have been conversations regarding limits being put on Archer, but no decisions have been made.
"We may try to find him an extra day, regarding his work schedule," Maddon sad. "He's pretty much been on target the whole time."
Archer allowed five earned runs, including a two-run homer to Erick Aybar on Monday night and took the loss in the Angels' 11-2 win.
"Listen, this guy's been pitching great," Maddon said. "[Archer's performance Monday] really came down to the home run by Aybar. I mean, it was not awful. A part of it also was his inability to control the running game. That's been a bane throughout our group, not just him. So we have to get better at controlling the running game, period."
Archer said he thinks he feels the way everybody else is feeling.
"The normal fatigue," he said. "But I prepare in the offseason for this month of the season. Because the first few months you can get by without being in great shape, you can be in OK shape. I think the purpose of really going hard in the offseason and exhausting myself, and then in between starts once the season starts, is getting ready for September.
"Whenever I'm on the mound, I don't really feel anything as far as my body goes, and I'm 100 percent in tune and my body just follows my mind. Like last night I wasn't feeling fatigue, I just wasn't executing pitches. Maybe that's from fatigue, who knows. But I didn't feel tired physically."
Bill Chastain is a reporter for MLB.com. This story was not subject to the approval of Major League Baseball or its clubs.