Loney getting in a groove
Loney getting in a groove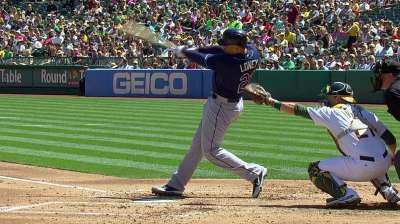 ANAHEIM -- James Loney hit a home run Sunday at Oakland and is 8-for-24 in his last six games.
Rays manager Joe Maddon has noticed a difference in the Rays first baseman.
"Ball hotter off the bat," Maddon said. "I think he's made a nice adjustment in the batter's box. He looks like he had earlier when we went into Baltimore and he made a little adjustment with his legs. And I think I'm seeing more of that right now. A better bottom half. I thought he's looked good the last couple of days."
Loney is batting a Major League-high .364 on the road. The last American League player to finish a season with a road average that high was Robinson Cano of the Yankees in 2006 (.364).
The Rays' club record for one season is held by Carl Crawford (.342 in 2007). Loney started 1-for-13 on the road, but has batted .383 (77-for-201) since.
Bill Chastain is a reporter for MLB.com. This story was not subject to the approval of Major League Baseball or its clubs.