Rays struggling out west
Rays struggling out west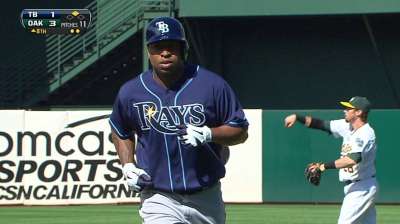 ANAHEIM -- Entering Monday night's series opener against the Angels, the Rays were 0-8 in games played in California and Arizona this season.
The Rays lost both games of a two-game series against the D-backs in Phoenix and were swept in a three-game series against the Dodgers in Los Angeles in early August before dropping three straight over the weekend in Oakland.
"We've been playing better on the West Coast the past couple of seasons," Rays manager Joe Maddon said. "Primarily I've got to attribute it to the really good pitching we've seen. The D-backs pitched well against us, the Dodgers did and now Oakland did. We haven't been very offensive on the West Coast."
Maddon noted that the Rays need to start hitting "like we can" if they want to turn around their fortunes.
"We have to just start playing a more consistent offense game because we've been pitching well, we've been playing great defense, everything is good, we're just having a hard time at the plate," Maddon said. "But it can be a cyclical kind of thing. We just have to get our vibe back on the offensive side of the ball."
Since July 31, the Rays are 11-17, have averaged 3.21 runs per game (28th in the Major Leagues) and hit 21 home runs (25th in the Majors). Prior to that date, the Rays were 64-43 and were ranked sixth in the American League in runs scored (4.65) and eighth in home runs (119).
Bill Chastain is a reporter for MLB.com. This story was not subject to the approval of Major League Baseball or its clubs.