Rays recall reliever Gomes, option Odorizzi
Rays recall reliever Gomes, option Odorizzi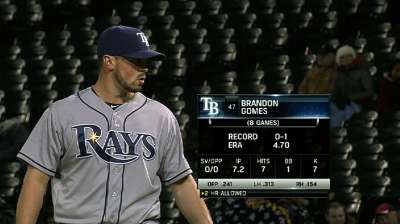 OAKLAND -- Right-hander Brandon Gomes, 29, was recalled from Triple-A Durham on Friday with right-hander Jake Odorizzi optioned to Durham.
It's been a strange season for Gomes, who went on the disabled list in May with a right lat strain, was recalled for two days in mid-August and spent time on the 60-day disabled list.
"I'd never pulled or strained a muscle," Gomes said. "I didn't know what to expect. I'd never been on the DL before. It puts a new appreciation for guys who stay healthy."
Gomes left Atlanta in the morning, sharing the same flight as left-hander Matt Moore, who continues rehabbing his sore left elbow.
"I'm good to go," Gomes said. "I feel great and that's the main thing. When I feel healthy, I feel like I can pitch well. It's nice to get back here and into a routine."
Gomes (0-1, 5.68 ERA) had appeared in 15 games for the Rays entering Friday.
Rick Eymer is a contributor to MLB.com. This story was not subject to the approval of Major League Baseball or its clubs.