Healing Crain hopes rehab starts to pick up
Healing Crain hopes rehab starts to pick up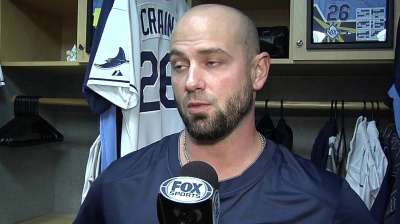 ST. PETERSBURG -- The Rays acquired right-hander Jesse Crain before the July 31 Trade Deadline knowing he was injured, but hoping he would boost their bullpen come September. But Crain, out since June 29 with a right shoulder strain, is recovering slowly enough to wonder whether he'll pitch at all for Tampa Bay.
Crain is playing catch, but hasn't progressed to throwing off the mound. He said Wednesday he'd like to throw from the mound four or five times before coming off the disabled list, and he's aware that he might be running out of time to do so if he hopes to pitch again this season.
"He's kind of stuck right now. It's not getting worse. It's not getting better," Rays manager Joe Maddon said. "We probably need to see some significant movement within the next week or so."
Crain will travel with the Rays on their upcoming 10-game road trip and said his goal is to throw a bullpen session at some point during that stretch. Before he can do that, he said he needs to be able to play catch "and not even think of my shoulder, be free and easy and not even think one thing about it." But he's not there yet.
Once he progresses to throwing off the mound, Crain said he would like to throw at least two bullpen sessions and a simulated game before determining if he's ready to return to game action. Whether he can do all of that within the next month, however, remains to be seen.
"I hope so, in my gut, yeah. I want to be ready. But it's day by day," Crain said. "So we'll see how I feel tomorrow. After throwing two days in a row, I have to wait and see how I feel tomorrow. Right now, our plan is not to throw tomorrow, give myself a day off and throw the next day.
"It's frustrating. We all wish we had a certain plan that we knew what it was. I think that's been the most frustrating thing. You can do as much as you can, but there's no answer to it. You've just got to try things and see how they go."
Crain, who will be a free agent after this season, was enjoying a career year with the White Sox before the injury, posting a 0.74 ERA and 46 strikeouts in 36 2/3 innings over 38 appearances.
Bill Chastain is a reporter for MLB.com. Sam Strong is an associate reporter for MLB.com. Adam Berry is a reporter for MLB.com. Follow him on Twitter at @adamdberry. This story was not subject to the approval of Major League Baseball or its clubs.