Maddon not concerned about Myers' slump
Maddon not concerned about Myers' slump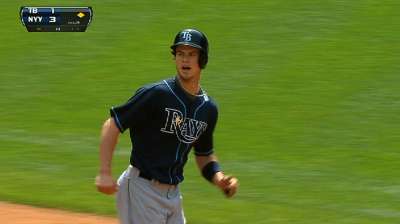 ST. PETERSBURG -- Rays outfielder Wil Myers did not slow down upon getting called up from Triple-A Durham in mid-June, but he has recently hit the wall that many predicted.
Myers is batting just .167 with a .220 on-base percentage in his last 14 games after hitting .340 with a .392 OBP prior to that.
"He's missing his pitch, fouling it off and maybe chasing a little bit," manager Joe Maddon said. "But I see the same stance, bat speed. He has to play through it. We've talked to him about some small, technical things. It's nothing big. He looks a lot like he did when he was hot. Maybe his confidence has been dinged a little bit, but overall, I think he's fine."
Myers is still tied for first among American League rookies with 39 RBIs. Maddon, who constantly lauds Myers for the unaffected nature with which he has handled the promotion, feels he is handling the slump well.
"Before every at-bat, we have a conversation," Maddon said. "It can vary from what he did in high school, to the color of his shoes, to what's going on with his swing. None of that has changed. It's what happens when you play big league baseball. Sometimes, pitchers get the best of you."
Maddon added he does not feel Myers' dip in performance is related to AL pitchers compiling more complete scouting reports on the 22-year-old. Maddon has used Myers as the designated hitter in five of the last 11 games.
Bill Chastain is a reporter for MLB.com. Sam Strong is an associate reporter for MLB.com. This story was not subject to the approval of Major League Baseball or its clubs.