Moore gets peace of mind after bullpen session
Moore gets peace of mind after bullpen session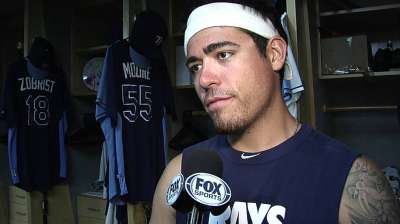 BALTIMORE -- Left-hander Matt Moore had a glow about him following Wednesday's bullpen session in the visitors' bullpen at Camden Yards.
To simulate game conditions, Moore, who is working his way back from a sore left elbow, dressed for the occasion.
"I even had my jockstrap and cup on," Moore said. "I think I threw 69 pitches total and sat down one time. I wasn't planning on sitting down, it was just that warm out there today.
"Even with the sitdown, I threw some changeups before and after, and it felt really good. This is by far the best bullpen we've thrown in this process, so we're very encouraged by it. Saturday looks like the best day to throw a sim game, and we'll re-evaluate after that as far as the workload before my next start."
Passing Wednesday's hurdle brought Moore some peace of mind.
"It's a relief to get that [over with]," he said. "It's like taking a test in the morning and getting the results at the same time. Today was kind of a test for us to see where we were at after that many pitches. I think the original target was around 50, maybe 60.
"We were feeling so good, we kept going. It was warm out there and I was feeling like I was getting a good workout, so it did a couple of different things for me. It let me know that my pitches, I was able to throw those pain-free, and I was able to get some conditioning in my arm, which I haven't been able to do off the mound in a few days."
Moore was asked if the 69-pitch bullpen session could lead to him getting into a game sooner than expected.
"I hope so," he said. "That's obviously a decision for someone else to make. If I feel really good coming out of the sim game on Saturday, I'll do everything to pitch a case for that a little bit sooner."
Manager Joe Maddon has ideas about the next step for Moore but said the club wants to go "one step at a time."
"This was the next step that we saw today," Maddon said. "[Head athletic trainer Ron Porterfield] came in feeling really strong and good about it. So we'll do the thing on Saturday. Then after that we'll have ideas for the next thing, but we want to make sure before we go ahead and plan it."
Maddon did allow that the next thing for Moore following Saturday's sim game will not be a Major League game.
Bill Chastain is a reporter for MLB.com. This story was not subject to the approval of Major League Baseball or its clubs.