Homers give Longoria place in Rays' history books
Homers give Longoria place in Rays' history books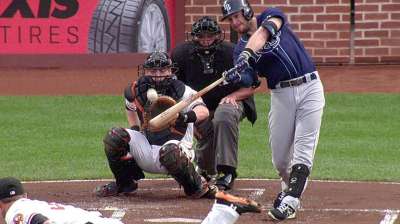 BALTIMORE -- Evan Longoria homered in the first inning of Monday night's game against the Orioles, giving him 25 for the season as well as the fourth 25-homer season of his career.
"Home runs are obviously a nice statistic. I love hitting home runs," Longoria said. "But whether I feel like I have a successful season or not, it's still not going to be a successful season if we don't live up to the expectations of the team."
Longoria is now tied with Carlos Pena for the club record for the most seasons with 25 or more home runs. Aubrey Huff and Fred McGriff (two each) are the only other Rays with more than one such campaign.
Although Longoria is not one to dwell on his accomplishments, he did allow that he could appreciate the consistency of reaching 25 home runs in four of his first six Major League seasons.
"It's easier to say [I appreciate reaching the plateau] now because I'm feeling a lot more comfortable at the plate," he said. "If this had happened a month ago, I'd be like, 'I'm at 25, but I don't feel good.' That's why you have to keep swinging. And you know you've got to believe in what you're doing. Twenty-five is a solid number, 30 is better, and hopefully, I can get there by the end of the season. It's a much cooler number to look at at the end of the year."
Bill Chastain is a reporter for MLB.com. This story was not subject to the approval of Major League Baseball or its clubs.