Moore avoids soreness playing catch
Moore avoids soreness playing catch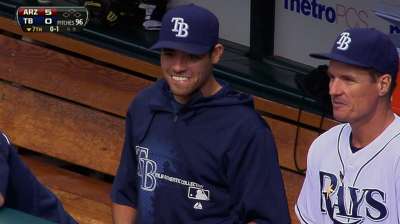 ST. PETERSBURG -- Rays pitcher Matt Moore, who has not pitched in a game since July 28 because of a sore muscle in his left elbow, played catch Sunday for the first time in four days.
Moore threw a bullpen session Wednesday but took some time off when the soreness did not subside. He threw pain-free from 75 feet Sunday.
"It went exactly like I wanted it to," Moore said. "I played easy catch and worked in some arm speed."
Moore will now attempt to throw every day as he works toward throwing from a mound again. The true test will come when he tries to use his changeup, the pitch that set off the injury in his start against the Yankees.
"It's kind of like picking a scab," Moore said of the pitch. "It's great until I pick that scab once, and then it turns into my arm not feeling 100 percent."
Sam Strong is an associate reporter for MLB.com. This story was not subject to the approval of Major League Baseball or its clubs.