Rehab start is next step for Rays' Jennings
Rehab start is next step for Rays' Jennings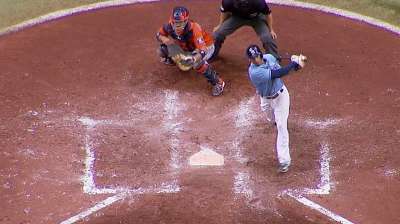 ST. PETERSBURG -- Rays outfielder Desmond Jennings was scheduled to make a rehab start for Class A Charlotte on Sunday with the goal of joining the Rays on Monday in Baltimore.
Jennings fractured his left middle finger while sliding Aug. 3.
Tampa Bay's leadoff man expects to play the rest of the season with some pain but feels it is tolerable.
"I would be waiting until the end of the season if I waited until it was 100 percent," Jennings said. "If it doesn't hurt bad enough, I'm going to play."
Jennings was hitting .258 with a .326 on-base percentage before the injury. He leads the Rays in stolen bases with 17.
Sam Strong is an associate reporter for MLB.com. This story was not subject to the approval of Major League Baseball or its clubs.