Jennings progressing toward possible Monday return
Jennings progressing toward possible Monday return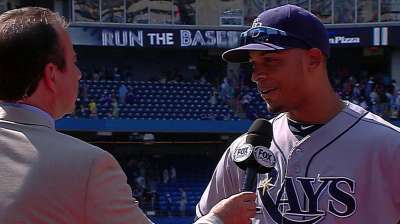 ST. PETERSBURG -- Rays outfielder Desmond Jennings hit in a batting cage Thursday for the first time since fracturing his left middle finger on August 3.
Jennings is eligible to come off the disabled list Monday when the Rays open a series against the Orioles in Baltimore, a goal manager Joe Maddon sees as feasible.
"He's making nice progress," Maddon said. "[Head athletic trainer Ron Porterfield] believes if he's not right on schedule, it isn't going to be far off that."
If necessary, Jennings would play in a rehab game Sunday, but a decision has not been reached.
Maddon acknowledged Jennings may not be at 100 percent upon his return and could have to play through pain.
"The biggest problem with a thing like that is mis-hitting a ball or swinging and missing can cause the most pain, or even on the defensive side," Maddon said. "Those are things you can guard against somewhat, but you may have to suck up a little buzz in the hand now and then. Desmond is a tough guy."
Sam Strong is an associate reporter for MLB.com. This story was not subject to the approval of Major League Baseball or its clubs.