Maddon supports proposed replay, but has questions
Maddon supports proposed replay, but has questions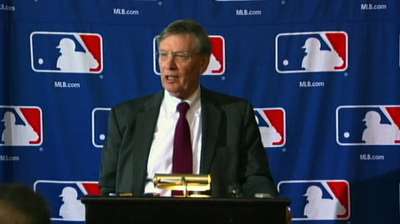 ST. PETERSBURG -- Rays manager Joe Maddon was glad to hear news come from the quarterly Owners Meetings on Thursday that Major League Baseball plans to expand its use of instant replay.
"Of course I like it," Maddon said. "I like flat-screen TVs with high definition. I like air conditioning in my 1956 Bel Air. I like computers. That group that argues against technology and advancement, I would challenge them to take away all the technology that makes our lives better. To bury your head in the sand and reference 'old school' all the time is a really poor argument. This is the time. It's our time to make the right decision. Live with it, understand it. It makes things better and more accurate. What's wrong with that?"
Under the proposed plan, managers would be allowed one umpire's challenge through the first six innings and two more in innings seven through nine.
Maddon took issue with this, noting that he feels each point in a game is equally important.
"We've lost games in the first inning," Maddon said. "I don't know if there are more mistakes in the latter part, but it's difficult for me to try to tell you what the most significant moment in that game will be. It could be done so quickly with technology today. I don't anticipate this being a lengthy thing, and it's going to be a lot less lengthy than me going out to argue."
Sam Strong is an associate reporter for MLB.com. This story was not subject to the approval of Major League Baseball or its clubs.