Longoria, Rays searching for solution to slump
Longoria, Rays searching for solution to slump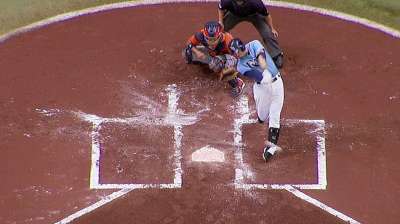 ST. PETERSBURG -- Evan Longoria has been exhausting every possible avenue for leaving behind the slump he has been mired in since the beginning of July.
The Rays slugger entered Saturday night's game against the Giants hitless in his last 14 at-bats, dating back to the sixth inning Monday in Boston, and he hit just .194 in 25 July games. He is hitting .270 with 21 home runs and 58 RBIs.
Longoria surges on, continuing to work hard as if enough batting practice might trigger a way out. Saturday afternoon he took early batting practice.
Manager Joe Maddon allowed that he spoke to Longoria on Friday and "threw my two cents out there."
"I know I really like the coaches to coach more than I want the manager to coach," Maddon said. "Once in a while I do get involved."
Longoria went 0-for-3 in Friday night's 4-1 loss to the Giants, but Maddon noted that he "really liked" Longoria's last at-bat when he grounded into a forceout against Madison Bumgarner in the seventh.
"Because of the way that the bat got to the ball, the sound of the ball off the bat," Maddon said. "It looked great and more familiar to me. I know overall yesterday the results weren't that great. But he looked more closely like he had in the past.
"Normally it's not just a flip of the switch and get back to where he had been. But I thought it was kind of noticeable the differences. And we talked about that. Let's just see what happens the next day or two, because normally it doesn't just happen from just one conversation. But I did like the later part of the game yesterday."
Despite Longoria's July slump, the Rays went on a nice roll that saw them go 21-5. Maddon was asked if he felt pretty good about the fact that the team went on a roll and Longoria did not drive the offense.
"There's something to be paid back yet," Maddon said. "You know he's going to get hot. He's going to get back to where he had been. It will be nice to get them all cooking at the same time. But yeah, for us to do what we did and him not be at the top of his game offensively, although he was at the top of his game defensively. So, yeah, I'm kind of curious. Because I think there's something to be paid back yet."
Longoria is just experiencing an old-fashioned slump according to Maddon.
"Yep, you just try to help him along," Maddon said. "You try to be patient with it. When he comes out of it, he's going to look exactly like he did prior to the slump. And there's even going to be times within the slump where he looks the same also. It's all based on what he's seeing right now, what's he's feeling right now, what his confidence level is right now. There's a lot of stuff there that's difficult to measure and correct conversationally."
Longoria's teammates know he is doing all he can to rid himself of his slump.
"That's why we're a good team," Luke Scott said. "We pick each other up. No one has played a season, except for Miguel Cabrera, where they just go through and constantly produce. Evan is going through a tough time but we're all going to go through it. It's a tough game. We have to pick up the slack."
Unlike most players, Longoria gets more scrutiny when he slumps.
"When you're a franchise player, there's going to be more attention," Scott said. "That's just the way it goes. If it's a guy at the bottom of the order, it's not going to be as magnified."
Bill Chastain is a reporter for MLB.com. Sam Strong is an associate reporter for MLB.com. This story was not subject to the approval of Major League Baseball or its clubs.