Cobb's rehab slowed by blister on finger
Cobb's rehab slowed by blister on finger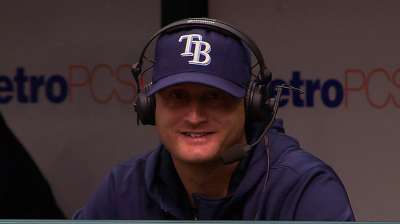 ST. PETERSBURG -- As Alex Cobb lay on the mound at Tropicana Field having just taken a line drive to the head off the bat of Kansas City's Eric Hosmer, many wondered whether he would ever pitch again.
Cobb's rehab process has gone quicker than expected, but the one thing that could hold him back has nothing to do with his head. Cobb is battling a blister on his right index finger, which forced him to be removed from his last rehab start just two pitches in.
He will give it another try Saturday at Class A Charlotte when he attempts to throw four innings or 65 pitches, whichever comes first.
"It sounds like a pretty wimpy injury but it's pitchers' kryptonite, it really is," Cobb said Friday. "It's not something you can pitch around. It's there on every pitch. You can't alter arm angles or the way you pitch. That's the last place the ball leaves your body and you feel it."
Cobb has dealt with blister issues in the past but it has reared its head again for two reasons. Tropicana Field's dome eliminates humidity that could enter the blister each time Cobb makes a home start, a luxury Charlotte Sports Park does not provide.
Cobb said he develops a callus on his finger throughout the season, but because of the head injury, he was not allowed to throw for almost two weeks.
Tampa Bay's training staff has tried applying different ointments and laser treatment to strengthen the skin.
Manager Joe Maddon does not feel the blister could keep Cobb out for an extended amount of time. The team expects to have him back in the starting rotation by the time it returns from a West Coast road trip Aug. 13.
"Isn't it awkward?" Maddon said. "He gets hit in the head and a blister is keeping him out. It's strange but it also speaks to the power of the blister. When pitchers get blisters, man, it can really make a big difference. Go back to Nolan Ryan with the pickle brine. Samson can come to his knees with a blister. He'll be fine."
Bill Chastain is a reporter for MLB.com. Sam Strong is an associate reporter for MLB.com. This story was not subject to the approval of Major League Baseball or its clubs.