Rehabbing Cobb feels good after simulated game
Rehabbing Cobb feels good after simulated game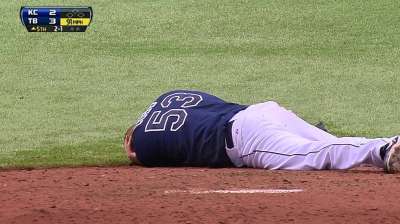 ST. PETERSBURG -- Alex Cobb threw about 50 pitches in a three-inning simulated game on Tuesday at Port Charlotte.
"Tried to vary the times between innings just to keep my arm guessing in a game-like situation as much as I could," Cobb said. "And everything went really well. Arm feels really good. My mechanics feel a lot better than when I first started pitching [during rehab]. So we're headed on the right track."
Cobb sustained a concussion on June 15 when he got hit in the head by a line drive off the bat of Kansas City's Eric Hosmer. His recovery has gone well, but he suffered a setback when he got a blister on his right forefinger. Cobb kept his finger covered with an adhesive bandage on Tuesday.
"So it was a little more difficult to throw the offspeed pitches," Cobb said. "But I still threw them to keep the same arm action as I normally would throw it. But they weren't as sharp as normal. It's tough to throw with a Band-Aid on."
Cobb smiled when asked how frustrating his experience has been.
"All you can do is wait," he said. "It was tough when you finally feel good enough to compete again, and you [throw] two pitches and have to start all over again [because of the blister].
"But if you take the same approach that you took with the previous injury and just realize how lucky I was to be out there in the first place, and knew I was ahead of pace to begin with, and give it a day or two to settle down, you become a lot more at ease with the situation. It took me a little bit, but I tried to make it to my benefit and get back stronger in the weight room and get my body feeling better for when I do come back."
Cobb said he has passed all of Major League Baseball's concussion tests, which can be stringent. But he said he still has his "little moments here and there" of symptoms.
"But nothing that will keep me off a mound and keeping a pretty ordinary day going," Cobb said. "… Obviously there are still some remnants still remaining, but for the most part it's completely healed. … It goes away a little bit every day. It's just getting to that point where I go throughout the day and realize I don't feel anything."
Cobb said he will throw four innings in a rehab appearance for Class A Advanced Port Charlotte on Saturday.
"And then another one five days later, and then we'll reevaluate when that time comes," Cobb said.
Cobb has experienced mixed emotions while being on the sidelines during the team's torrid streak through July.
"It's like when you're a little kid and you have homework to do and you can't go outside and play with your buddies until it's done, and they're playing right outside your window," Cobb said. "You can watch them every night and they're just beating up everybody that they see. I'm jumping off the couch during the games.
"I know that when I do come back it's going to be in the thick of things. And the games that I'm going to be pitching are going to be very meaningful. It gives you a little extra drive to get ready."
The Rays are contemplating using a four-man rotation consisting of Matt Moore, David Price, Jeremy Hellickson and Chris Archer during August, when the Rays have five off-days in the first three weeks of the month. If the Rays take that route, which would allow the starters to remain on regular rest, for the most part, it's conceivable Cobb could be ready to jump back into the group once it's expanded back to five at the end of the month.
Rays manager Joe Maddon said on Tuesday the team had made a decision on whether to go to the four-man rotation, but they were not yet ready to release that information.
Cobb is 6-2 with a 3.01 ERA in 13 starts this season.
Sam Strong is an associate reporter for MLB.com and Bill Chastain is a reporter for MLB.com. This story was not subject to the approval of Major League Baseball or its clubs.