Club continues to weigh four-man rotation option
Club continues to weigh four-man rotation option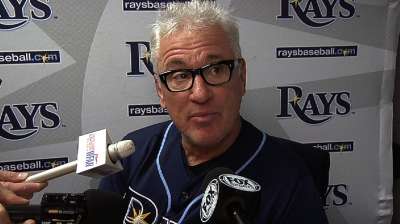 BOSTON -- The Rays are still weighing the possibility of going to a four-man rotation for the month of August, but haven't made any decisions.
With five off-days in the month, the Rays could conceivably go with their top-four pitchers -- David Price, Chris Archer, Matt Moore and Jeremy Hellickson -- who have been spectacular during July.
"That's still in a state of flux," manager Joe Maddon said of the decision. "So we got the [series] with the Diamondbacks and after that, I'm not 100 percent sure."
The Rays are 24-2 in the last 26 games started by one of their top four starters, but Maddon also said some extra rest during the dog days of the season could be beneficial. The Rays entered play Monday a half-game behind the Red Sox for first place in the American League East.
Price took the mound against Boston on Monday and Maddon said the "number of pitches tonight could impact," the decision as well.
Michael Periatt is an associate reporter for MLB.com. Follow him on Twitter @Michael Periatt. This story was not subject to the approval of Major League Baseball or its clubs.