Fresh in first place, Maddon welcomes grandson
Fresh in first place, Maddon welcomes grandson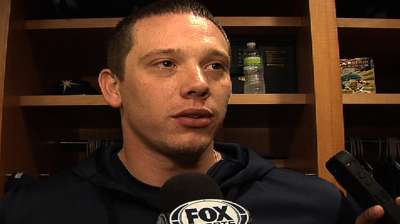 NEW YORK -- Rays manager Joe Maddon said he was pleased that his team woke up in first place in the American League East on Saturday morning, and he noted he believes the Rays can continue to sustain their fine level of play, which has seen them go 20-3 since June 29.
That record is the best 23-game span by an AL club since the 2006 Twins, who went 21-2.
"Pretty cool," said Maddon, asked how it felt to occupy first place. "It was only topped by the fact that my grandson was born last night."
Maddon told reporters that his fourth grandchild, and second grandson, Giuseppe Ennio Maddon, was born Friday night in Mesa, Ariz., at approximately 10:30 p.m. MST.
"So you go home after playing that game last night," Maddon said. "Getting back on top [in the standings], hopefully staying there. That's my fourth grandbaby and my second grandson, so that's exciting."
Maddon explained that "Ennio" means predestined.
"My son [Joey] does all kinds of research," Maddon said. "Just wanted to hold onto the Italian heritage, so he threw it out there and I thought that was fantastic."
Bill Chastain is a reporter for MLB.com. This story was not subject to the approval of Major League Baseball or its clubs.