Maddon takes positives out of bullpen's work in opener
Maddon takes positives out of bullpen's work in opener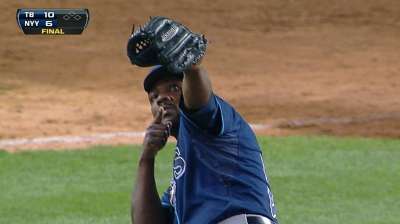 NEW YORK -- A day after a near meltdown by the bullpen could have cost the Rays a game they seemed to have put away, manager Joe Maddon felt better Saturday about the way Tampa Bay's series opener in New York ended.
Rays relievers allowed five runs in the last two innings before Fernando Rodney entered the game to pick up the final out and earn his 25th save in the Rays' 10-6 win against the Yankees.
Part of the bullpen's struggles could be attributed to the fact it has not pitched much lately due to the success of the team's starting pitching. Friday night allowed the bullpen to knock off some of the rust.
"Yeah, we had to get some guys out there to pitch," Maddon said. "Cesar [Ramos] hasn't pitched in a while, Jamey's [Wright] pitched on a limited basis. Same thing with Kyle [Farnsworth]. And I didn't want to get Jake [McGee] and Fernando in under those circumstances, but they both needed work, too. So in a perverse way, it all worked out well. You'd rather just kick it and do it in a more comfortable manner, but everybody got some throwing in and it's probably going to benefit us."
Maddon allowed that it's been an odd year for Rodney.
"Of course he missed some early," Maddon said. "And the way we were playing did not work out well for him to get saves. Last night, he'll take that one-out save and I'll take that, too. That's a great way to get him going again in the second half. Fernando had that one little moment [during the early part of the season], but overall, he's been really good."
Bill Chastain is a reporter for MLB.com. This story was not subject to the approval of Major League Baseball or its clubs.