Escobar's dazzling defense has Rays abuzz
Escobar's dazzling defense has Rays abuzz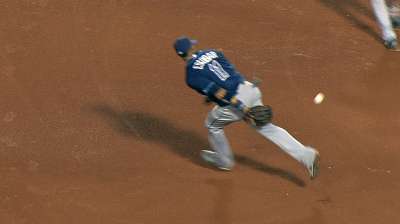 BOSTON -- Yunel Escobar's spectacular behind-the-back toss, which started a double play during Wednesday night's 5-1 win, was still being talked about on Thursday afternoon.
Second baseman Ben Zobrist was the pivotman on the play, taking the throw barehanded and making a successful relay to first to complete the twin killing.
"I was definitely surprised," Zobrist said. "You don't expect somebody to go behind their back in a game. Maybe in batting practice, playing around. And it was smooth and easy and perfect."
Zobrist said that for him the most impressive part of the play was "how easy he made it look."
"Anybody else is going to make that look more difficult," he said. "It was smooth, easy, and a perfect play. I had the easy part.
"You don't draw plays like that up. That's just one of those things where he's really good, and he makes it look really easy, and he makes it easy on everybody else, too. To make the play."
Bill Chastain is a reporter for MLB.com. This story was not subject to the approval of Major League Baseball or its clubs.