Rays tie club record with Price's complete game
Rays tie club record with Price's complete game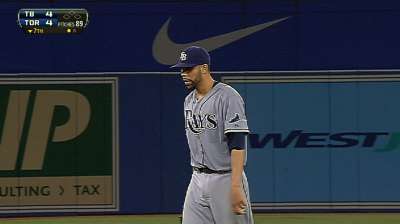 BOSTON -- David Price's complete game against the Red Sox on Wednesday night gave the team its fifth complete game in its last 14.
Prior to that the Rays had no compete games in the first 88 games of the season. The five complete games in July tied the club record for a single month (June 2002) and are the most by any team in any month since the Mets threw five in August 2010.
The Rays have been a different team since Price returned from the 15-day disabled list on July 2, going 15-3, and the rotation has gone 13-3 with a 2.17 ERA.
Since coming back, Price has been a strike-throwing machine. He is the only pitcher since Baseball Reference's pitch-count data has been compiled (1999) to throw three complete games on fewer than 100 pitches in a span of four starts.
Price is fine with opposing hitters wanting to take pitches against him, "because I feel like they'll be 0-2 pretty quick."
Price's three under-100-pitch complete games equal the most of any pitcher in an entire season since 1999, putting him in company with Atlanta's Greg Maddux (2000), Minnesota's Brad Radke (2001) and Oakland's Mark Mulder (2003).
Price is now 19-3 with a 3.27 ERA in 33 career starts at American League East ballparks,. not including Tropicana Field.
Bill Chastain is a reporter for MLB.com. This story was not subject to the approval of Major League Baseball or its clubs.