Archer gets praise, advice from Schilling
Archer gets praise, advice from Schilling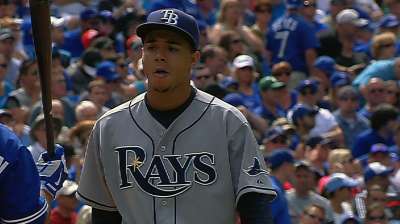 BOSTON -- Chris Archer had a nice surprise on Wednesday afternoon, when he got to talk to former Major Leaguer Curt Schilling.
"The conversation I just had with him was priceless," Archer said, "because he said some pretty nice things about me on 'Baseball Tonight' and ESPN and stuff. I've never seen it, but my friends and family have told me. And that's an honor. I don't know all of his accolades. I remember watching him at the end of his career, and he was super-impressive.
"And we have guys on our team who have pitched as long as he did. So I look up to [Kyle] Farnsworth and Jamey Wright for staying healthy, keeping up with their routine. And to get praise from an outside source, who played so long and did so well, it's honoring."
Schilling also offered Archer a word of caution.
"He reminded me that I'm doing well now, but I still have so much room for improvement," he said. "And I think we need that. We need somebody. I have somebody at home to keep me in check for sure, and on the team. But coming from him ... Making sure I remain humble, to realize that I'm pitching well but I haven't tapped my potential yet.
"He said he always felt like he could do better. His career was incredible, but he said, 'I was always striving to get better.' So for me, my rookie year in the big leagues, having a small taste of success, hearing that from him is encouraging. Like, 'Hey, I can do better. Don't break the routine. Stay on the path. Stay on course.' It was a good conversation."
Bill Chastain is a reporter for MLB.com. This story was not subject to the approval of Major League Baseball or its clubs.