Despite milestone, Longoria surprised by homers
Despite milestone, Longoria surprised by homers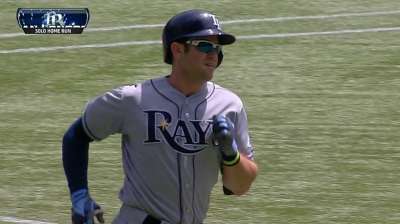 BOSTON -- Evan Longoria's home run off the Blue Jays' R.A. Dickey on Sunday gave him 20 on the season and 150 for his career.
Longoria now has five 20-homer seasons in his first six years in the Major Leagues, which makes him just the sixth third baseman all time to record that many this quickly.
The others who turned the trick are Bob Horner, Chipper Jones, Eddie Mathews, Scott Rolen and Jim Ray Hart.
Yet Longoria doesn't see himself as a home run hitter.
"Sometimes it's kind of baffling to me that I hit as many home runs as I do," Longoria said, "because I go into batting practice, and I don't hit any home runs. On a very rare basis, I may hit one or two, but I'm really one of those guys who needs the pitcher to supply the power.
"I definitely have the kind of swing where I have to be in a good rhythm and feel good at the plate to be able to hit home runs. I feel like there are some other guys, namely Chris Davis, who is just so strong that his swing may break down from time to time. But he hits some balls, and maybe mishits them, and hits the ball out of the ballpark. There's a lot of guys like that."
Many of Longoria's home runs have been to the opposite field this season, which he said is an indication of "when I'm at my best."
Bill Chastain is a reporter for MLB.com. This story was not subject to the approval of Major League Baseball or its clubs.