Maddon, wife setting out on open road
Maddon, wife setting out on open road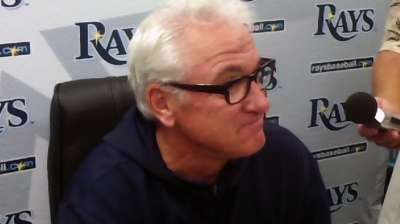 ST. PETERSBURG -- Good luck tracking Rays manager Joe Maddon down during the All-Star break.
Maddon and his wife, Jaye, will hop in their 30-foot RV -- the same one Jaye drove from California to Florida during the offeseason -- and head to Florida's east coast after Sunday's game.
"The idea of hitting the open road today is kind of an exciting thought," Maddon said. "This is our first salvo into the RV world. And it's something that you can grow with a bit. You can grow both mentally and physically, regarding the size of your RV."
Maddon may want to take pointers from fellow American League manager Ron Gardenhire of Minnesota. Maddon called Gardenhire "a pro" when it comes to RV-ing and said "Gardy lit up" when they discussed the open road recently. Gardenhire cruises in a 40-foot diesel vehicle around the country during the offseason.
"Maybe down the road, we'll consider moving it along a little bit," Maddon said. "We don't have the diesel unit yet. From what I've gathered, the diesel unit is the way to go. But we'll wait on that."
And while he will be away from his home, he doesn't mistake driving for camping.
"It's not exactly roughing it. I have DirecTV and Sirius Radio," Maddon said. "We can watch the All-Star Game. You have a fridge and stove and that good stuff. There are two air conditioning units, so it's nice and cool in there. You have a generator, so you could park it anywhere and live."
Maddon also said he would consider bringing his English bulldog Winston along.
"That will be a game-time decision," he said with a smile."
Sam Strong is an associate reporter for MLB.com. This story was not subject to the approval of Major League Baseball or its clubs.