Rays head trainer Porterfield heading to ASG
Rays head trainer Porterfield heading to ASG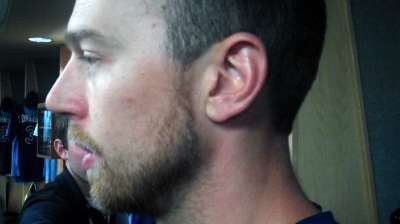 ST. PETERSBURG -- Ben Zobrist and Matt Moore will represent the Rays in Tuesday's All-Star Game, but Moore isn't the only person from the Rays clubhouse making his All-Star debut.
Head athletic trainer Ron Porterfield -- now in his 17th season with the club and eighth as the head trainer -- will participate in his first Midsummer Classic as the trainer for the American League team.
Porterfield was selected through a vote by the members of the Professional Baseball Athletic Trainers Society.
"You're representing your colleagues," Porterfield said. "They feel good enough about you representing them and that's a big thing."
Everyone in Tampa Bay's clubhouse had a different reason why Porterfield is the best trainer in baseball, but they agreed that he has been vital to their success over the past several seasons.
"He deserves every honor that baseball can bestow upon him, because that guy not only works his tail off on a daily basis, but he cares about his players and this organization," Zobrist said. "He wants to do the best job he can possibly do, and he cares about our long-term health. It's important to realize everyone has a life after baseball, and that's why he takes such care to keep us healthy and prolong our careers as long as he can. I think the world of him."
Since his selection, Porterfield has been gathering information from other American League trainers on their respective All-Star players' conditions and injuries.
"I know a lot of those players just from being on the other side," Porterfield said. "To actually sit down and talk with them and meet them on a more personal basis will be pretty neat."
Porterfield said he is most excited for his 17 year-old son, Alec, to accompany him onto the field.
Strength and conditioning coordinator Kevin Barr will also make the trip as a part of Jim Leyland's staff.
Sam Strong is an associate reporter for MLB.com. This story was not subject to the approval of Major League Baseball or its clubs.