McGee comes through, fills in for Rodney
McGee comes through, fills in for Rodney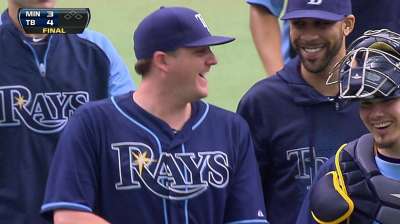 ST. PETERSBURG -- Being on a winning streak is a good thing in all but perhaps one respect -- your closer can get overworked.
Rays manager Joe Maddon found himself clinging to a one-run lead on Thursday but Fernando Rodney had appeared in three consecutive games. Maddon instead handed the ball to seventh-inning specialist Jake McGee. McGee had appeared in five career save situations but failed to convert any of them.
McGee didn't disappoint this time, retiring three Twins in order and striking out two, using just 12 total pitches for his first Major League save.
"It felt good to get that first save out of the way," McGee said Friday. "It took a long time but it was cool to do it in a one-run game."
McGee has allowed just three earned runs since May 7 and has done it using primarily one pitch, his fastball. He will occasionally mix in a slider here or there but his fastball in the mid-90s has been working just fine of late.
That wasn't always the case. McGee gave up five runs in an inning on two occasions earlier this season.
Maddon has long said McGee doesn't need more than the one pitch but the secret to success for him lies in location.
"He's throwing that fastball where he wants to," Maddon said. "He wasn't doing that as often early in the season."
McGee acknowledges he must start to develop other pitches because he will lose velocity later in his career but locating the fastball is working for now.
"I think I'm getting ahead early and I'm able to locate high fastballs," he said. "Earlier in the year, I would yank it here or there. It wasn't going where I wanted it to."
Sam Strong is an associate reporter for MLB.com. This story was not subject to the approval of Major League Baseball or its clubs.