Maddon relishes chance to share learned lessons
Maddon relishes chance to share learned lessons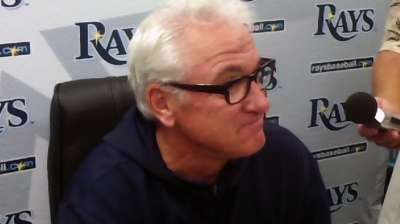 ST. PETERSBURG -- Joe Maddon's 59-year-old white head of hair was unmistakable in right field long before the Rays took the field for Friday's series opener against the Astros.
Several feet in front of Maddon, the floppy brown locks of Wil Myers' 22-year-old mop poked through his hat as he nodded and received instruction on outfield footwork from Maddon .
As the club's manager, Maddon doesn't often give hands-on, one-on-one instruction, but he'll take any chance he gets to impart the outfield knowledge he learned from former Major League scout Sam Suplizio.
Maddon often taught Suplizio's lessons when he served as the Angels' outfield coach during part of his 31 years with the club.
"To me, he was the finest outfield instructor I have ever been around," Maddon said of the late Suplizio. "He had the greatest package of outfield drills. What I learned from Sam is so complete so it's really important you pass that stuff along. I feel very strongly about it. I really enjoy teaching outfield defense."
Myers has five hits in his last two games since Maddon gave him a day off on Tuesday. He had two of the Rays' four RBIs in Thursday's 4-3 win.
"The way he's standing at the plate looks better and I think he's covering the whole plate better because of that," Maddon said. "Anytime you get a chance to sit and watch a big league game and you do it well, that can be very helpful."
Sam Strong is an associate reporter for MLB.com. This story was not subject to the approval of Major League Baseball or its clubs.