Rays not taking any team lightly
Rays not taking any team lightly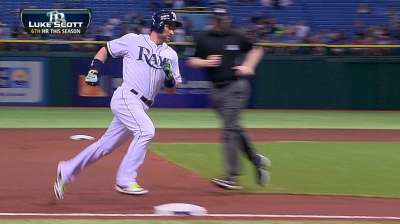 ST. PETERSBURG -- After Tuesday's 4-1 win over the Twins, Tampa Bay has won 10 of its last 11 games. Of those 11 games, nine were played against the Astros, White Sox, and Twins -- all teams with records under .500 (they also beat the Tigers twice).
Rays players said that just because a team has a record under .500, it still must be respected based on the fact that it's a Major League team.
"You can't take any Major League team lightly," Sam Fuld said. "And I think I've learned that the last couple of years. We've struggled against some of the teams, at least on paper, that we should have success against. This year, it's been nice. I don't know if it's learning from our experience this year or completely random. … It's easy to look on paper and say, 'They only have 38 wins.' But they're capable, and if you don't play well, they're capable of beating us any given night."
Joel Peralta said the Rays must treat every team as a contending team to "get the best out of us."
"The team you're playing each night is the one you need to play the hardest against," Peralta added. "When we play against these teams, if you put your guard down, they're going to get you."
Sean Rodriguez added: "The minute you don't [take a Major League team seriously], they'll beat you. No matter what their record is, they're still going out there every day to try and win, because that's how they earn their living."
Bill Chastain is a reporter for MLB.com. This story was not subject to the approval of Major League Baseball or its clubs.