Myers' presence forces Maddon to get creative
Myers' presence forces Maddon to get creative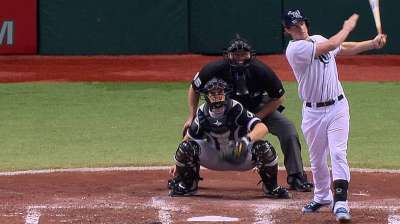 ST. PETERSBURG -- Wil Myers' arrival stabilized the Rays lineup to a point where the team is as close to having an everyday lineup as it has been during manager Joe Maddon's tenure.
If everybody is healthy, Maddon arrives at the park knowing he has Evan Longoria at third base, Yunel Escobar at shortstop, Ben Zobrist at second base, James Loney at first, Desmond Jennings in center field, and Myers in right. So if Maddon isn't up to tinkering, his only decisions are who plays left field and DH, in addition to choosing between catchers Jose Lobaton and Jose Molina.
"It's close to being a set lineup," Maddon said.
Thus, the daily fates of Kelly Johnson, Matt Joyce, Sam Fuld, Luke Scott, and Sean Rodriguez have been impacted. Unless Maddon gives a regular a day off, each of the five must hope they're either penciled in as the left fielder or DH.
In the past, juggling players has been a much easier task for Maddon, who must now be creative in finding ways to keep his spare parts in tune.
"You knew once [Myers] got here, if everybody remained healthy, that you'd have some issues in regard to keeping guys sharp," Maddon said.
Maddon noted that he must look for his spots to use certain players at different times.
"I mean, look at Sam," Maddon said. "You put him in there against all lefties and he's done a great job against left-handed pitching in this particular role. Luke's been impacted as much by Longo's foot as anything. It can impact Kelly Johnson when everybody is well. Sean Rodriguez, although he gets to play against left-handers. Matt Joyce. Everybody is impacted. To the players' credit, they all get it. They understand it."
Joyce, who played right field much of the time before Myers' arrival, now sees time in left field and DH. Though Joyce acknowledged that he's had to make some adjustments to playing left, he noted that the one thing that hasn't changed has been the fact that he sees most of his playing time against right-handed pitching.
"I think, for me, I try to take the position that as long as the team's getting better, I'm not going to say anything," Joyce said. "You always want to be on a team that can win and be successful. Wil gives us a better chance of winning."
Johnson said the new situation has been a little bit hard to get used to.
"It definitely throws a wrench, overall, in how your season plays in your head," Johnson said. "Before, it was a little more clear and you understood the pattern of how you had been playing."
Johnson said he is thankful that he's still been given the "opportunity to bounce around."
"If I was still pigeon-holed at a certain position, or one or two places, that would look a lot different," Johnson said. "I can only look at this from my perspective. Obviously, it does a lot of things to a lot of people. That's why it's harder on [Maddon] and very tricky, because he's got to worry about 25 players."
Johnson noted that the everyday status of Myers is understood.
"There are no guarantees," Johnson said. "If you're hot and you're playing well, they're going to find a spot for you. That's the name of the game. You have to play well, whether it's defense, baserunning or hitting, you'll get your opportunities. That's just the way it goes, but it is different."
Bill Chastain is a reporter for MLB.com. Sam Strong is an associate reporter for MLB.com. This story was not subject to the approval of Major League Baseball or its clubs.