Longoria returns to third; Zobrist gets breather
Longoria returns to third; Zobrist gets breather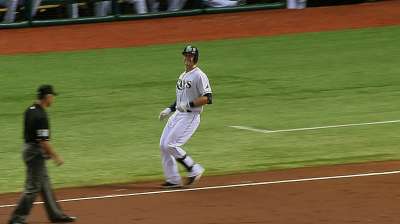 ST. PETERBURG -- Rays third baseman Evan Longoria returned to the lineup at third base on Friday for the first time since the plantar fasciitis in his right foot flared up and forced him out of the third inning of a June 28 loss to the Tigers.
Longoria took three full days off and served as the Rays' designated hitter during the final three games of their series win against the Astros. Prior to the time off, Longoria was the only Rays player to start in each of the season's first 80 games.
Longoria walked in the eighth inning on Thursday and was removed for pinch-runner Sam Fuld. Manager Joe Maddon jokingly suggested the move fueled Longoria's return.
"He did not want to come out of that game," Maddon said. "He said he was feeling pretty good during the game yesterday. We finally got word that he felt he wanted to play third base. That helps against the righty because it gives Luke Scott a chance to get back in the lineup. I like that, too."
Maddon, however, said he doesn't expect Longoria to retake his hot-corner post on an everyday basis.
Longoria's return was coupled with another abnormal lineup move on Friday: Second baseman Ben Zobrist's name was missing from the lineup card for the first time since June 1.
Zobrist has just one hit in the last five games and has seen his batting average dip 13 points in July.
"He's been grinding it out very harshly, and I want him to back off a little," Maddon said. "He overworks all the time. He's struggling a bit at the plate, so he has taken many more swings. I would rather he take many less swings."
Of Zobrist's 19 at-bats against the Astros, 10 ended in flyouts.
"Sometimes that is an indication of being a little tired," Maddon said. "That was one big fly ball that whole time in Houston. We have to get him back on a line. Permitting him to regroup a little bit is important. After that, hopefully we can convince him not to swing so much. The point of diminishing returns does set in with guys who just want to swing away. It's not always the right way to go."
Bill Chastain is a reporter for MLB.com. Sam Strong is an associate reporter for MLB.com. This story was not subject to the approval of Major League Baseball or its clubs.