Longoria itching to return, avoid DL for foot injury
Longoria itching to return, avoid DL for foot injury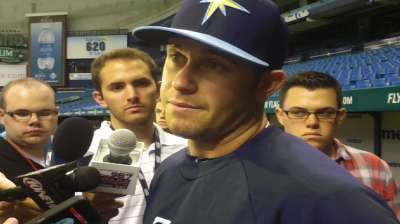 HOUSTON -- Evan Longoria continues to deal with a nagging foot injury that finally sidelined him on Friday.
"I don't have any answers as to when I'll play but I'm going to make a bid for them not to make any moves and then play, hopefully in the next couple of days," Longoria said Monday. "I'll be able to pinch-hit [Monday night]. I want to play [Tuesday]. So I'll talk to Joe [Maddon] and see how that goes. A couple of lefties the next couple of days, so I really want to play."
Longoria has been frustrated by the setback but said he believes he's about ready to return to the lineup.
"It's tough for them and myself to make decisions on the lineup," Longoria said. "I don't want to go out there and not be able to run and do the things that I can do.
"So, we're stuck in limbo. I hope to play in the next couple of days."
Longoria said he doesn't anticipate going on the disabled list; "I'm going to try and make them hold off on that as long as they can."
Glenn Sattell is a contributor to MLB.com. This story was not subject to the approval of Major League Baseball or its clubs.