Cobb to stay in Florida to throw as Rays hit the road
Cobb to stay in Florida to throw as Rays hit the road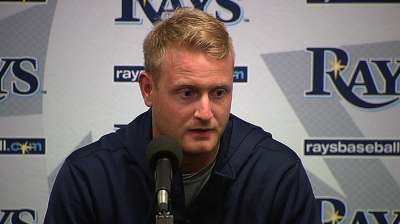 ST. PETERBURG -- Tampa Bay pitcher Alex Cobb will not travel with his teammates to Houston, where the Rays begin a four-game series with the Astros on Monday.
Cobb, who began playing catch Friday for the first time since he was hit in the head with a line drive on June 15, will continue to throw in Florida while he waits for headaches to subside and fluid in his inner ear to drain.
Cobb said his condition is improving each day but a date for his return to the Rays' starting rotation has not been determined.
"The aggravating thing is I can feel good most of the day and once it gets to a couple positions I put my head in, it sets back a little bit," Cobb said Sunday. "There's no regression, it's just a reminder that I still have some fluid built up and my equilibrium is off a little bit."
He has been able to maintain a conditioning level that he says has kept him in "game shape."
"When this goes away, I'll be ready to jump in," Cobb said. "I won't have to restart the process."
Bill Chastain is a reporter for MLB.com. Sam Strong is an associate reporter for MLB.com. This story was not subject to the approval of Major League Baseball or its clubs.