Longoria sits from lineup for first time this season
Longoria sits from lineup for first time this season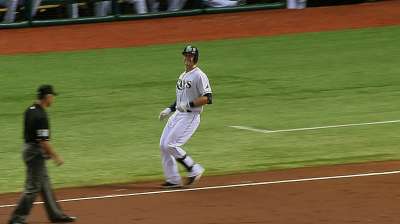 ST. PETERSBURG -- Rays third baseman Evan Longoria was not placed on the disabled list Saturday after the plantar fasciitis in his right foot flared up in the second inning of Friday's loss to Detroit.
Longoria wore a walking boot out of Tropicana Field on Friday but had shed the boot Saturday and said he felt less sore than he expected.
"I'm hoping that after some of the pain I'm experiencing today subsides, I'll be able to go back out there as soon as possible," Longoria said. "It's not something that I think is going to threaten me long term, it's just pretty sore today."
Previously the only Ray and one of just 11 Major Leaguers to start in each game this season, Longoria's name was missing from Saturday's lineup card. He started all but eight of those games at third base, with another bout with plantar fasciitis forcing him into being the DH, something he "didn't like."
"I feel that my body feels better when I play every day," Longoria said. "It's tough to play this game once a week and feel like you're ready the next day. It's a routine thing. Your body gets used to it and you know what to expect the next day. It's definitely a point of pride. I want to go out there and play in the field every day and be able to do the things that have made me successful and beneficial to this team."
Manager Joe Maddon is hopeful that Longoria will be back in the lineup sometime during the Rays' visit to Houston next week but could not assign a timetable to his recovery.
Although a return date is not known, Longoria said he prefers this sort of day-to-day injury as opposed to the torn left hamstring that kept him out for more than three months last season. The Rays averaged nearly one fewer run per game and had a losing record without him in 2012.
Longoria has not received an MRI, and the X-rays he received during the last flare-up in mid-June revealed no permanent damage.
Sam Strong is an associate reporter for MLB.com. This story was not subject to the approval of Major League Baseball or its clubs.