Pinch-catcher? Rodriguez was prepared
Pinch-catcher? Rodriguez was prepared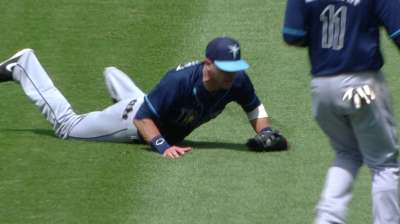 ST. PETERSBURG -- Rays' catcher Jose Lobaton had quite a scare in the ninth inning of Wednesday's 3-0 loss to the Blue Jays, when the tip of Adam Lind's bat struck the back of his helmet.
Manager Joe Maddon only has two catchers on his roster, and Lobaton was already a defensive replacement for starter Jose Molina, but Maddon's only concern was for Lobaton's health. Maddon had complete confidence in his third catcher: Sean Rodriguez.
As trainers tended to Lobaton, Rodriguez, in infielder, prepared to put on the gear.
"Sean was ready to go, man," Maddon said after the game. "I told Loby, 'You realize Sean is next. How do you feel?' I was just trying to get him to smile. He was definitely shaken in the beginning. That hit him firmly. He was fine, but Sean was ready."
Rodriguez hasn't caught a game since high school, but he often catches bullpen sessions and warm-up pitches between innings.
"I want to get that inning under my belt," Rodriguez said after the game. "It would have been something for everyone to smile about with the way [R.A.] Dickey was throwing, but I was glad to see [Lobaton] was all right."
Rodriguez said he's prepared for all aspects of catching, including gunning down potential basestealers. Well, sort of.
"It's going to fly," Rodriguez joked. "It might go into center field, but they're going to say, 'He has a [great] arm.'"
Maddon was even willing to take things a step further, claiming the Rays now have four catchers with the arrival of rookie Wil Myers. Myers was a catcher during his first two seasons in the Minor Leagues.
Rodriguez had something to say about that.
"No chance," Rodriguez said. "We're fighting. He's the prospect. We have to take care of him."
Bill Chastain is a reporter for MLB.com. Sam Strong is an associate reporter for MLB.com. This story was not subject to the approval of Major League Baseball or its clubs.