Maddon weighs in on All-Star nods
Maddon weighs in on All-Star nods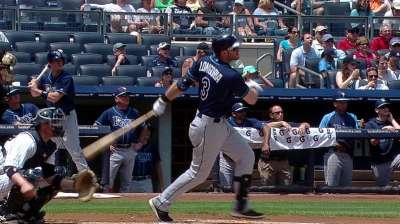 NEW YORK -- Manager Joe Maddon was asked on Sunday which Rays deserve to be on this year's American League All-Star squad.
"[Evan Longoria], absolutely," Maddon said. "Longo has to pop up in there. Longo definitely deserves to be there again."
He then broached the possibility of a pitcher joining the team.
"I still think among all the pitchers, the most consistent has been [reliever] Joel Peralta," he said. "That's kind of a reach based on the task he performs, but he's definitely pitched at that level."
Any others?
"James Loney has had himself a very good half, but [first base is] a really tough position to break through," he said. "And I'd say Yunel [Escobar]. I know his batting average is not at a number right now where people would like to see it -- that's attributable to his tough start -- but his defense has definitely been All-Star-caliber defense.
"If [Escobar] did not get off to a bad start, he'd easily be around .275 and an easier push. But I'm telling you: If you really break him down more closely over the last month and a half, two months, the numbers are definitely there for strong consideration to make that team. Then pile on what he's done on defense. His defense has been great."
Bill Chastain is a reporter for MLB.com. This story was not subject to the approval of Major League Baseball or its clubs.