Longoria records 500th career RBI
Longoria records 500th career RBI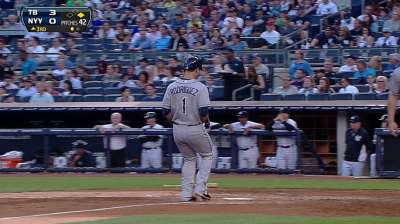 NEW YORK -- Evan Longoria's sacrifice fly off Andy Pettitte in the third inning on Thursday night was cause to have the ball taken out of the game. Longoria now has 500 career RBIs, and he reached the milestone faster than all but seven active players.
Those to reach the mark in fewer games than Longoria's 710 are Ryan Howard (575), Albert Pujols (623), Todd Helton (651), Josh Hamilton (667), Mark Teixeira (694), Miguel Cabrera (697) and Justin Morneau (706).
"It's very significant," Longoria said. "It's a mile marker, but it's a pretty good amount of RBIs and something I'm pretty proud of. It will be one of those things I'll be able to look back on and say, 'At least I had 500.' Hopefully, there's some more. But 500 ... is a pretty good amound of RBIs that I was able to achieve."
Ironically, Longoria's RBI places him just in front of Travis Hafner, who reached the plateau in 711 games. Hafner was in the Yankees' lineup as the designated hitter on Thursday.
Bill Chastain is a reporter for MLB.com. This story was not subject to the approval of Major League Baseball or its clubs.