Peralta continues to mow down opposing batters
Peralta continues to mow down opposing batters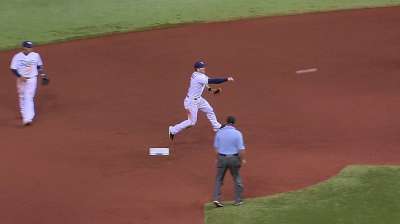 ST. PETERSBURG -- Joel Peralta is tied with Matt Lindstrom of the White Sox for the American League lead with 34 appearances, 26 of which were scoreless, and one shy of Arizona's Brad Ziegler for the Major League lead.
"I like to pitch the way I am right now," Peralta said. "It's been like that the whole time. The more I pitch -- with a little rest -- the better I am."
Peralta has made 181 appearances during his Rays tenure (2011-13), which leads the AL.
In Peralta's time with the Rays, he has faced the opposition's Nos. 3-4-5 hitters more than any other spots in the order and has held them to a .179 average.
"I know that [manager] Joe [Maddon] likes to put me at the top of the lineup, especially if some lefty is coming up," Peralta said. "Sometimes I come in in the seventh inning, because they have some lefties at the top of the lineup. Sometimes it happens that way, when I come into the eighth inning and they're all there, but I'm kind of used to it now. I kind of like it."
Opponents' No. 3 hitters are batting .075 against Peralta during his Rays career (5-for-67), lowest in the Major Leagues over that span.
"I think that I have more focus when it's the top of the order," Peralta said, "and, I mean, it's worked so far, so I can't complain."
Bill Chastain is a reporter for MLB.com. Adam Berry is a reporter for MLB.com. This story was not subject to the approval of Major League Baseball or its clubs.