Price: 'This is the best I've felt all year long'
Price: 'This is the best I've felt all year long'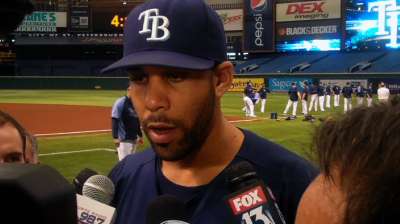 ST. PETERSBURG -- David Price threw a 45-pitch bullpen session at Tropicana Field on Monday afternoon and said his arm feels the best it's felt all year.
The Rays' injured ace, on the disabled list since May 16 with a left triceps strain, said he threw all his pitches in the side session monitored by pitching coach Jim Hickey and head athletic trainer Ron Porterfield. From here, manager Joe Maddon said, Price will throw another bullpen session before pitching a simulated game and then advancing to Minor League rehab starts.
"Honestly, I'm totally as if [the injury] never happened. I feel that good right now," Price said. "This is the best I've felt all year long, including Spring Training. It feels 100 percent right now."
Maddon's timetable has Price in line for a return to Tampa Bay's rotation in late June or early July, and Price said he'll continue to be patient as he builds up arm strength. That said, Price noted immediately afterward that he felt like he could have pitched in a game Monday.
Price's repeated assertion that he felt better Monday than he had all year -- along with his 1-4 record and 5.24 ERA -- led to questions about whether he'd been pitching with an injury or if he had ever been at 100 percent following his 2012 American League Cy Young Award campaign. Price said he didn't feel bad, just that he "didn't feel normal" before he left his May 15 start against the Red Sox.
"It didn't bother me until really that game. I definitely felt other things, but it was nothing that limited the way that I pitch. I just wasn't making good enough pitches," Price said. "If that affects my ability to make pitches, then it did affect me. I don't think that was the case. I just wasn't very good at the time, so I feel very good right now. Looking forward to getting out there and facing real hitters. Today was a good day."
And that came as a huge relief to Price, who hopes to regain his usual form when he finally gets back on a big league mound.
"It is good. This is something we talked about as well. Whenever I come back, they want me to be able to come back and stay back and not just to come back to make a couple starts," Price said. "They want me to be here in August and September when the games are magnified by everybody and it gives us a chance to get into postseason baseball. That's our main goal, and that's what we're trying to do."
Bill Chastain is a reporter for MLB.com. Adam Berry is a reporter for MLB.com. This story was not subject to the approval of Major League Baseball or its clubs.