Rays take advantage of Stanek's availability
Rays take advantage of Stanek's availability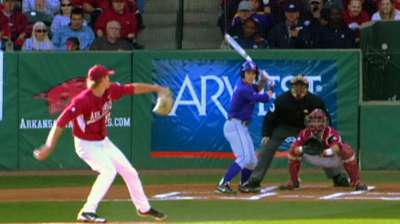 ST. PETERSBURG -- When the Rays were making their second selection of the first round on Thursday, they found a name they didn't expect to still be available: Ryne Stanek.
The hard-throwing right-hander from the University of Arkansas had been projected as a Top 10 pick, but the Rays grabbed him 29th.
"I would have liked to have gone a little earlier, but I'm not too disappointed, because I got taken in the first round," Stanek said. "And Tampa's a great place and a good place for right-handed pitchers and pitchers in general to go and develop. It's really a good fit for me."
The Rays then finished their first-day work by selecting switch-hitting shortstop Riley Unroe from Desert Ridge High School in Mesa, Ariz., at No. 60.
Before finalizing the Stanek pick, scouting director R.J. Harrison made one final call to Arkansas pitching coach Dave Jorn.
Harrison and Jorn played together in the Cardinals organization.
"I said, 'Any reason we wouldn't want to take Ryne?' and he said, 'Absolutely not, I think his best days are ahead of him,'" Harrison said. "That made me feel pretty good. Because that's what we're looking for."
So why did Stanek fall to the Rays? Harrison had no reasonable explanation.
"It's happened this way the last three years for us," he said. "We've had guys that have fallen to us. We were talking about it the other day. You have to be ready for anything that might happen. So we were prepared for this."
Turns out the Rays have had their eyes on Stanek for a long time.
"We liked this kid in high school," Harrison said. "We have a good track record with him. We watched him in high school, and we watched him for three years at Arkansas. We feel like we got a really good pitching prospect."
When asked to break down Stanek, Harrison offered an impressive assessment.
"Fastball, slider," he said. "He's got a live fastball. Velocity-wise, we've seen him up to 97, 98 mph. He comes from a couple of different angles. He has a loose, whippy arm action. Good life to the fastball. Big slider. He'll show you a curveball and a change."
Andrew Friedman, executive vice president of baseball operations, noted that one of the benefits of taking a college pitcher is the premise that he can make it to the Show quicker.
"In theory, they can move a little faster than some of our high school guys," Friedman said. "He's competed in the SEC, [has] two power pitches; [he's] a guy we think is going to miss bats and be able to move fairly quickly, at least relatively so.
"I don't think we really fast-track anyone. But on a relative scale, I think he has a chance to get here pretty quickly."
Stanek sees himself as a starter because he's able to throw four pitches for strikes and his mound mentality.
"I just feel I'm better suited to start for a team," he said.
As for the prospect of the Arkansas pitcher one day pitching at Tropicana Field, two hours south of Gainesville, the home of SEC rival Florida, Stanek would like nothing better.
"No, it's right in SEC country," he said with a chuckle. "I don't have a problem with it at all."
Unroe is the son of former Major Leaguer Tim Unroe, who played for the Brewers, Angels and Braves from 1995 through 2000.
Most scouts feel that given Unroe's speed, arm, range and good bat speed from both sides of the plate, he can remain at shortstop. He is committed to attending the University of Southern California.
Bill Chastain is a reporter for MLB.com. Adam Berry is a reporter for MLB.com. Follow him on Twitter at @adamdberry. This story was not subject to the approval of Major League Baseball or its clubs.