Torres enjoying a turnaround in 2013
Torres enjoying a turnaround in 2013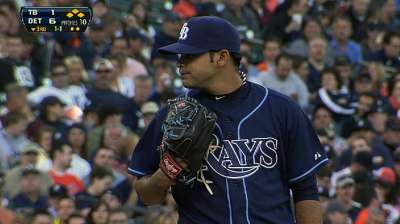 DETROIT -- Alex Torres faced more than his share of trouble when he entered Tuesday night's game, an eventual 10-1 loss, in relief of Matt Moore. The bases were loaded, and Torii Hunter, Miguel Cabrera and Prince Fielder were due up.
The 25-year-old left-hander proceeded to get Hunter to hit into a forceout at the plate for the first out, then he struck out Cabrera and Fielder.
"He came in nice and calmly, took the baseball, had a good look in his eye," manager Joe Maddon said. "There was no nervousness. Strike-throwing with all of his pitches. He was very good."
Torres added a scoreless fourth to finish his outing with no runs and three strikeouts, and he allowed no baserunners.
"I just try not to think about bases loaded right there in that situation," Torres said. "I just try to make them swing the bat and to try and get out of the inning right there. ... I'm just going to concentrate and do my job every time Joe Maddon gives me an opportunity."
Torres has appeared in four games over two tours with the Rays thus far this season and pitched 10 1/3 innings without allowing a run. In doing so he has allowed just one hit and three walks while striking out 12.
"He likes it here," Maddon said, "and I'm really impressed. Again, here's a guy who went to winter ball to be in this position. He deserves to be in this position."
Torres came to the Rays in the 2009 trade that sent Scott Kazmir to the Angels. He had a disappointing 2012 season, which saw him pitch in the Gulf Coast League as well as for Triple-A Durham, compiling a 3-8 record and 6.72 ERA in 30 appearances.
He ended up spending this past offseason playing in his native Venezuela, a journey that has paid off.
"I just [went] down there after I had a tough season in Triple-A to try and fix a couple of details in my mechanics," he said. "Like my release point, with my slider and changeup.
"Playing winter ball, I think that was the key to me throwing the ball well this year -- more consistency with my pitches. So I think that's the key."
Bill Chastain is a reporter for MLB.com. This story was not subject to the approval of Major League Baseball or its clubs.