Hellickson, Cobb weigh in on pitch counts
Hellickson, Cobb weigh in on pitch counts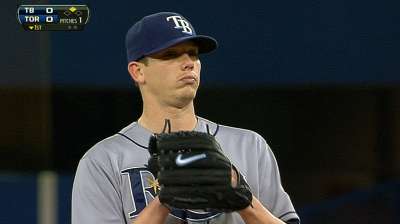 DETROIT -- On Tuesday, Detroit Free Press writer Anthony Fenech wrote an interesting piece after visiting with Mickey Lolich and Denny McLain. Among the topics was the use of pitch counts.
Neither of the former Tigers greats is fond of the limits used by Major League managers in the name of keeping their pitchers healthy. At one point McLain posed the question, "Can you imagine [former Tigers manager] Mayo [Smith] or somebody trying to take Lolich or me out in the ninth inning?"
For his part, though, Rays right-hander Jeremy Hellickson understands the need for pitch counts and is not disagreeable about having one.
"We all want to have long careers in this game," Hellickson said. "We all want to throw 200 innings a year. If we throw 200 innings but we're throwing 130 pitches a start, it all adds up.
"Would I like to go more than 90 pitches and 6 1/3 [innings]? After 90 pitches, do I want to come out? No. But in today's game the bullpens are a lot better and a lot more involved. I think with the bullpen we have, we don't have any choice if we're deep in the game with a high pitch count, sixth or seventh inning. A lot of bullpen guys can come in and fill the final innings."
Wednesday's starter, Alex Cobb, smiled when asked about pitch counts before sheepishly giving his opinion.
"I hate them," Cobb said. "Obviously, [when you're] a competitor and you're out there in the seventh and eighth inning and you have 100 pitches and you're getting pulled, you're kind of a little upset about it."
Every pitcher has a different limit, according to manager Joe Maddon.
"It just depends on the guy," Maddon said. "Like David [Price]. Last year we went between 110 and 120 a lot, and the same thing with [James] Shields. I don't feel as comfortable with Hellickson doing that. And I'm still not comfortable with [Matt] Moore doing that yet. And Cobb. Those guys to me, they kind of meet their Waterloo between 105 and 110, whereas David demonstrated that he did not and Shields demonstrated that he did not.
"I think it's individual. I think we've been more lenient with guys that we felt like could handle a heavier number. Because it's not just about that [particular] game, it's about the game after that and the game after that."
Whether he likes being on a pitch count or not, Cobb knows it's the reality for Rays pitchers.
"The way I've come to deal with it is, you're their property," he said. "You're their investment. How they want to decide it and what they want to do with their investment, they decide. And they've had great results.
"I'd much rather be going 120, 130 pitches per outing. But they feel otherwise. You're not going to complain. You're going to deal with it and keep your mouth shut and do what you're told."
Maddon noted that he is under not mandate from management regarding pitch counts.
"There are certain days when you feel like give them more rope, and there are other days when it's 'Perfect, let's get them out of there,'" he said.
Bill Chastain is a reporter for MLB.com. This story was not subject to the approval of Major League Baseball or its clubs.